---
Parents & Spectators Code of Conduct
* Support your child and team in a positive manner
* Never let match disappointment cause loss of control
* Never use abusive language to players, referees or other supporters
* Never sledge players, referees or other supporters
* Be positive with your child after a match - win, lose or draw
* Encourage your child to show good sportsmanship
* Violent comments and behaviour on the sideline can lead to violence on the field
* No-one is to blame for a defeat - it is all part of playing the game
* REMEMBER - the most important part of playing football is to develop physical and social skills in your child. Let them enjoy the game.

Spectators are reminded that there is NO ALCOHOL allowed on the ovals at any time
---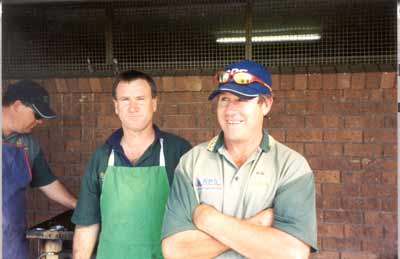 Come along and have some fun on the Barbie
At all home games this season and will require help to set up the field and run the BBQ and canteen. We have the same faces, for sometimes up to 12 hours, doing everything so that your child can play football - and most of these people are already aligned with a team as a coach, manager, trainer or assistant.
So that means they already do an awful lot for your child and are then forced to do even more because, if they don't, there would not be fields to play on, and canteen facilities to feed everyone.
We are asking all parents to try to help in some way during the course of the day. You would be surprised how much difference just
30 minutes can make.
We arrive at the ground at 6am and usually finish at 6pm. Helping out is pretty easy to do as all players have to be at the ground at least half an hour before their match so this is the ideal time to lend a hand.
Just sign in at the canteen and ask what can be done (you need to sign the book for insurance reasons).
It would be great if this subject did not have to be mentioned again for the rest of the year due to a huge response at every home game.
---
Please remember that all junior sport relies heavily on its volunteers, sponsors and supporters. You may not be in a position to be a sponsor, but we can all be volunteers - naturally we are already supporters.
---